Beautiful Beloved One,
Imagine for a moment that LOVE itself was speaking to you. Traveling on life's often bumpy and silken road, we all need a bit of inspiration and support from time to time. These LOVE NOTES have been created especially with your journey in mind. What would LOVE say? What would love do? Send them to yourself, send them to your friends. LOVE NOTES from The Glitterati are a little bit of sparkle and magic to brighten up your day. Why? Because YOU are the most gorgeous, radiant, magnificent beauty in the never-ending story of your one, precious life.
Whatever sort of a day you are having, however you are feeling right now, LOVE NOTES offer you a gentle hand of friendship and support as you navigate the ups and downs of life.
How to work with Love Notes
Is there a particular area of your life you would like some intuitive guidance on? (Insight into a relationship, what direction to take your work or just some general inspiration?)
CONNECT to your innermost heart. Take a moment to rest in the stillness that is always there for you.
GET CLEAR on your question, and simply allow yourself to be effortlessly drawn to whichever card is "popping out" to you at this time. Try not to think too hard about it. Trust your gut. It won't lead you astray. If you don't have anything in particular to focus on, simply ask inwardly that the right message is revealed to you that best supports your highest growth at this time.
CHOOSE your card by hovering your mouse over whichever card you are most drawn to.
CLICK on the card and a larger version will pop up. Read the message out loud.
COMMUNITY Sharing insights will help you to integrate the wisdom and truly embody what you've learned. Why not share your reflections with your friends by posting online?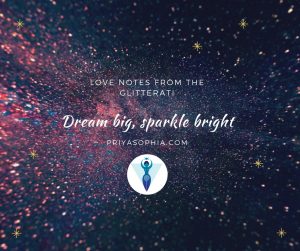 If the message resonated with you, we'd especially love to hear why in the comments section below.
Read the card again and again throughout the day as and when needed.
These messages have been encoded with high-frequency LOVE codes to literally wash through your cells, bathe you in their crystalline frequency and support you in your journey.
Do you have a friend who could do with some support or inspiration? Why not share with a friend?
Always remember that LOVE has your back. Dream big, sparkle bright. If in doubt, get your glitter on.
Love from The Glitterati
Disclaimer
Love Notes from the Glitterati
It is a legal requirement that we include a disclaimer on this site.
In accordance with the law in several countries we must point out that all LOVE NOTES readings given here are for entertainment purposes only, and no guarantee can be given as to the accuracy of a reading. You are completely responsible for your own life choices and decisions. We are not qualified to give legal, financial, medical or any other advice, and we do not give advice. If you require advice of any kind you should seek a suitable licensed professional.
This service is for over 18s only.
By using this service you confirm that you are over 18 and that you understand and agree with these terms.
If you are under 18 and/or you do not agree with these terms then you are not permitted to use this website.
You are free to share the LOVE NOTES, but please do always include a backlink to this webpage. Thank you!