In Loving Memory Of…
Lal Khemchand Mahtani
(19th June 1944 – 10th February 2018)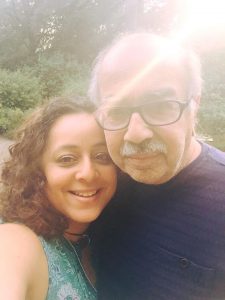 My father was quite simply the kindest man I have ever met. With the mind of a mathematician and the soul of a poet, he was fiercely intelligent, very well-read and partial to a glass of cold Chablis. He was a connoisseur of fine food and wine – full of his own brand of humour and jokes, that were not really that funny unless of course, you are my youngest child, who always thought her grandfather told the very best jokes.
My Dad was generous, loving and protective. He could always be relied upon for sympathy or support as all he really wanted was for his family to be happy. Some of my happiest memories with him are the countless lunches we enjoyed together in my teenage years. Talking about the meaning of life over gourmet cuisine, I always felt so proud to be his daughter.
A deeply, devoted family man, his life was one of sacrifice and hard work, providing for his family and being an incredible container of love and safety – the super glue that holds a family together through thick and thin.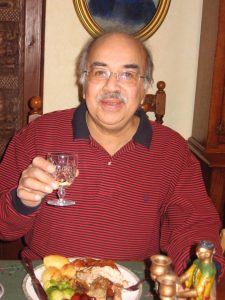 Although he had struggled with renal failure for over three decades, his death on the 10th February 2018 was nonetheless a great shock.
Only six and half weeks on, it is still hard to imagine life without him. Part of me certainly keeps expecting him to return, as if he's just on an extended holiday and soon enough that great, big, smiling face will be grinning at me all over again.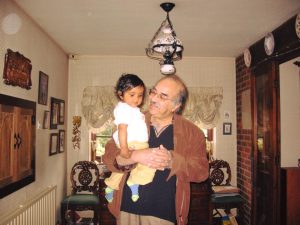 At the exact moment of his death, a candle lit for his grandfather blew out in my son's bedroom. Meanwhile, on the sofa downstairs in my living room, a strong gust of wind tapped on the window, gently calling my attention to the billowing storm outside. I know now that this was the soul of my father, connected as he is now to the soul of the world, saying his final goodbyes as he takes his onward journey back to God.
In the end, my father died peacefully in his sleep, with my mother by his side. Shortly after his death, the hospital room was filled with the most incredible light. I could literally feel my father's soul rejoicing at no longer suffering in a body that had endured so very much. Rejoicing to be liberated, rejoicing to be returned to his father and forefathers before him. The light of his soul filled my heart with so much love, it was as if to be gifted for the very first time with a new memory of my father – one that was ancient, because I have lived it my whole life and felt it in my bones, but new, because it had come to consciousness for the very first time. Dad was returning to the infinite ocean of love that is God's infinite peace. 
Even though my father's death leaves me with a Dad-shaped void, I know his love will never leave me and lives on both through me and in the lives of all those that loved him. This past week my mother and brother offered his ashes to the great Mother Ganges river in India, in the last of the funeral rites, washing and returning the last of his body fully to the earth, as he too takes his next big step in his own spiritual evolution.
I cannot pretend that this time of deep grieving is easy or anything other than a devastating loss and agony. At times I too feel as if being pulled deep into an ocean, with an endless feeling of drowning. Life without my father is literally heartbreaking. I don't honestly know if my heart will ever heal from this loss. What I do know however is that my father was in death as in life a beacon of love and devotion to family.  If you have ever lost a loved one, you will know only too well the curious mixture of grief and gratitude that death surely brings.  Yes, there is much grief at the loss of a loved one. But resting alongside the grief is a deep and abiding gratitude. The gift of loving and being loved by another human being, a precious gift beyond all possible measure.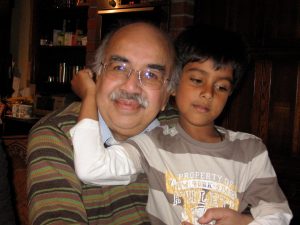 I share these words by way of an offering on the altar of new beginnings. My father (unlike me) was not a man of many words. But when he did speak, you always felt his depth, his profound capacity to feel and his struggles as a human being living a human life. It is from him that I have a love of poetry and writing – the incredible power of words in their capacity to inspire, touch and connect with others.
In loving memory of Lal Khemchand Mahtani, I now commit myself wholeheartedly to the path ahead. In receiving the tremendous light and flow of love that pours into us from our ancestors, I truly believe that we each have the capacity to more fully step into the vast riches of our own creative destiny.
My father was a great and kind man, a devoted husband and loving son. He was cherished by all those that knew him. For me of course, he was my most beloved father. I will miss him every single day.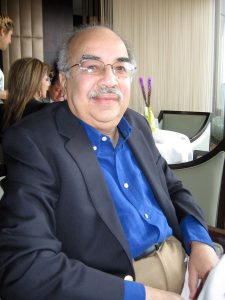 Om Namah Shivaya. May his precious soul rest in eternal peace.
With love, Priya xoxo
PS As a special one-off event, we will be hosting a special event at the Soul Circle Cafe, In Loving Memory Of... This is a meditative evening with space for your grief to be seen and your love to be witnessed for all those who have crossed the threshold into death. Whilst a free offering, spaces are limited, so if you would like to join us, please do book your place here.
Alternatively, please do feel free to share a photo or reflection in the comments below of somebody you would like to remember too. We will certainly include them in our prayers at the gathering on the 15th April 2018.